Natasha A. Kelly
Un_Masking Difference. Literary Voices from Behind the Mask. Edited by Natasha A. Kelly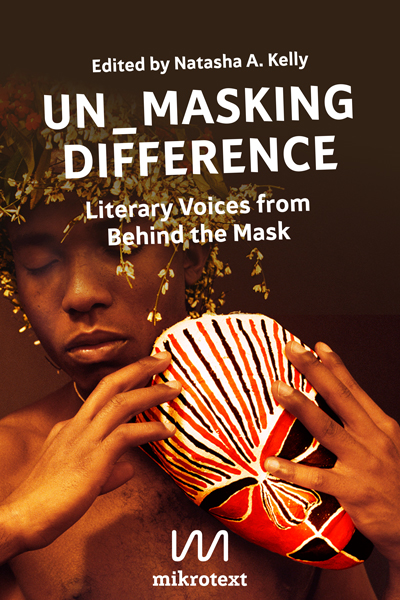 For the second time in history, masks have become the symbol of a global pandemic. The facial front lines differ in shape and size and are fashioned to the users' desires, reaching from African prints to floral patterns. But are masks solely 'germ-shields' or 'dirt-traps' as referred to a century ago? What does the choice of fabric actually reveal about its wearer? And in which way are differences 'un_masked'?
3,99 €
"Sechs internationale Schwarze Stimmen entdecken!"
BÜCHER Magazin
Summary
Authors, academics and activists from different backgrounds share their ideas on the historical, political, religious, racial and cultural, as well as on the intersectional dimension of masks. Similar to W.E.B. Du Bois metaphor of 'the veil', which solely exists in people's minds, masks can be seen as the physical manifestation of the inner and outer world, the speakable and the unspoken.
With Logan February, Precious Colette Kemigisha, Olumide Popoola, Djamila Ribeiro, Jeferson Tenório und Sheree Renée Thomas.
A publication of the Literary Colloquium Berlin with the kind support of the Federal Foreign Office.
Launch event
7 December 2020, 7 pm: Un_Masking Difference. Live Discussions and Performances. With Natasha A. Kelly, Lara Gross, Mohamed Amjahid, Amina Eisner, Conceição Evaristo, Mariana Bahia, Elissa de Brito, Ratão Diniz. Find the stream and more information at: https://lcb.de/programm/un-masking-difference-stimmen/
Originating from the last words of Eric Garner, an unarmed Black man killed by the police in 2014, and associated with a number of other homicides by the police, including that of George Floyd in 2020, the slogan "I can't breathe" has become the catchphrase used by the Black Lives Matter Movement in worldwide protests against police brutality and systemic racism. However, in the context of the global Corona pandemic the slogan has gained new relevance. If we understand breathing as a metaphor for social survival, the question arises, if masks enable people to 'breathe' or lead to suffocation. During enslavement, for example, so called 'muzzles' were used to torture and silence enslaved Africans. Later psychiatrist and postcolonial pioneer Frantz Fanon used the metaphor of the 'white mask' to describe the manifestation of the social psychosis caused in Black people by their racist domination and submission. He wrote that anti-colonial revolts occur when it becomes "impossible to breathe". In this regard, masks become a means to discuss race relations and identity in western societies. In ancient Africa masks were designed with human or animal characteristics or a mixture of both. In masking ceremonies spiritual or religious significance was celebrated accordingly. Stolen from their creators during colonialism, the religious aspects of these masks were undermined as they were reduced to artifacts and hung in European museums. In this context, the spiritual and/or religious meaning of masks was erased, and Eurocentric ideas imposed. At the same time, we are provoked to ask what is actually being 'un_masked' by whom and why.
Auszug lesen