Louise Bourgeois
I want to be accurate, not shocking
In conversation with Christiane Meyer-Thoss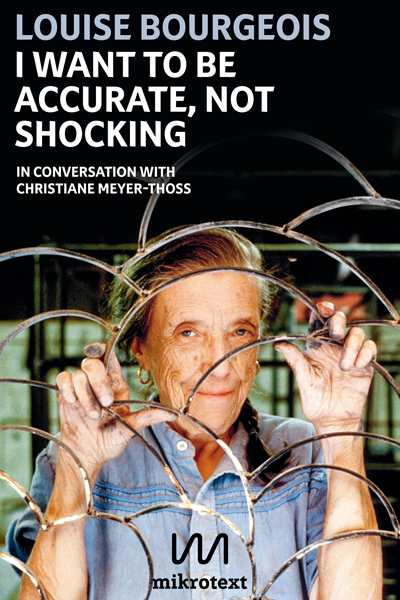 In the interview that Christiane Meyer-Thoss conducted with Louise Bourgeois in New York in 1986 and 1989, the artist gives personal insights into her work.
Also available in German
4,99 €
"You'll wish Bourgeois had been your grandma (or therapist), which explains why publisher and writer Nikola Richter is including her in the mikrotext 'ancestry' of her personal heroes from the past and present. I want to be accurate is a quick and fascinating 80-page browse on your smartphone. No better way to mix up your screen time!"
Exberliner
Summary: Conversation with Louise Bourgeois
The sculptor Louise Bourgeois was born in Paris in 1911 and studied painting with Ferdinand Légér among others. As one of the most important artists of the 20th century, she lived and worked in New York since her emigration in 1938. Her extensive and challenging work, which includes innumerable drawings as well as several paintings, is now recognized worldwide after decades of obscurity.
Christiane Meyer-Thoss
So you believe in truthfulness as an absolute?
Louise Bourgeois
We're not talking about honesty, morality, or absolutes. We're dealing with survival and self-preservation. If you're not honest, you get bitten. Fair enough. Honesty is a strategy for survival. If you're trying to self-express, to deceive is beside the point. If you don't achieve self-expression, you become depressed. It's related to fulfillment. However, if your art is about exorcising fears and self-expression, if you are convinced yourself you will be convincing to others. I do not have to convince anybody of how I feel — the proof is in the work. Be convinced by the work.
CM
How does this all relate to communicating?
LB
The need for self-expression precedes communication, and on a motivational level it does not concern the viewer at all. If you do not like yourself, you are not ready for communication. The frustration comes from the failure to communicate. You have to take the responsibility of that failure yourself. If you don't communicate, you scream and yell. Now back to the artist.
If the artist is successful, at ease with his sources, magic operates in his process. The viewer feels the positive vibe's of the work, illuminated by the artist in touch with his unconscious. There will be communication. If there is magic in the making then there is magic in the discovery. Let's hope.
Convincing is an intellectual process. I repeat, if you're not accurate in the depiction of your emotions, you are not convincing.
Auszug lesen