Jonas Mekas
Bum-Ba Bum-Ba
Conversations with John Lennon & Yoko Ono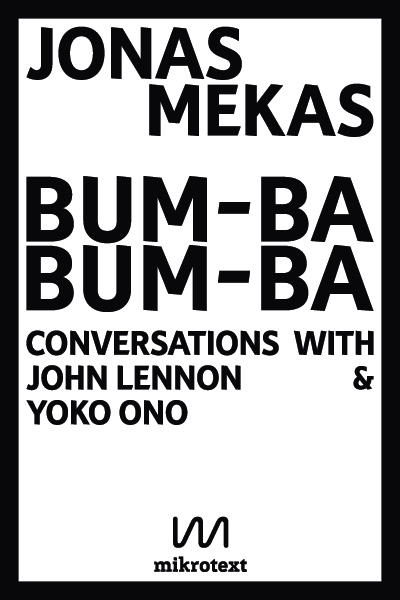 In a playful conversation with the artist Jonas Mekas, John Lennon and Yoko Ono give insights into their artistic practices, such as singing, influencing each other, and collaborating in films such as Legs which shows the naked legs of the New York artistic community.
Outtake from the Scrapbook of the Sixties published by Spector Books
4,99 €
"Wonderfully anecdotal, when the ruffled couple talks about diverse film and performance projects."
Oliver Jungen, Frankfurter Allgemeine Zeitung
Content: Jonas Mekas interview
December 1970, Regency Hotel, New York City: After a spontaneous film festival in the Elgin theatre for which Yoko Ono and John Lennon had produced two new films in only two weeks, the organiser Jonas Mekas and the two artists sat together, exhausted and probably also very happy. They talk about how the audience received the films and how Jonas Mekas managed to draw the attention from the famous couple to their works. Almost accidentially, the conversation touches many topics of creative production, from early childhood influences to collaboration, from heart beats in a waltz rhythm to electronic music, from realism to stutter to catharsis. And love and peace.
Jonas Mekas was well acquainted with a great many New York artists. He conducted numerous interviews with artists, some of which appeared for the first time in his Scrapbook of the Sixties, published by Spector Books. This ebook contains the outtake of one chapter of the Scrapbook. This intimate conversation with John and Yoko reveals Mekas as a friendly, attentive interlocur with a stunningly agile and honest perception.
Jonas: Is there in your singing, is there any singing in Japan, that is, I mean, that is Western?
Yoko: Well, I was trained, actually I was trained in Western music, German, you know, songs and all that, and Italian songs, in Japan.
John: Just trying to sing, in Japan …
Yoko: … to sing, you know, in Japan. And, they said, I had a good operatic voice and I could eventually sing in La Scala, you know … And I was dreaming about that. So my voice training has been very Western. But then, at some point, in New York, I started to feel sort of too desperate just singing operas.
Jonas: But still, one knows that one can not escape where one comes from, from the race and cultural memories. There must be something you are bringing from back there, and you are merging it with … something … not easy to define …
John: I think it's got more kinship with just childhood than any part of the world because when I first heard her stuff, I've never heard anything like it, the voice stuff. But a lot of the stuff she did and does was like when you'd lie in bed on your own, you know, at night, and you'd do "uh-arrh-aahh," and just entertain yourself for an hour or two if you couldn't sleep … And doing noises like that — I don't mean that stuff when she takes off singing — but a lot of just trying to find all the different noises you can make with your throat, immediately reminded me of doing it as a child, you know.
Auszug lesen