Nikola Richter
Global & beta
E-Book Code Berlin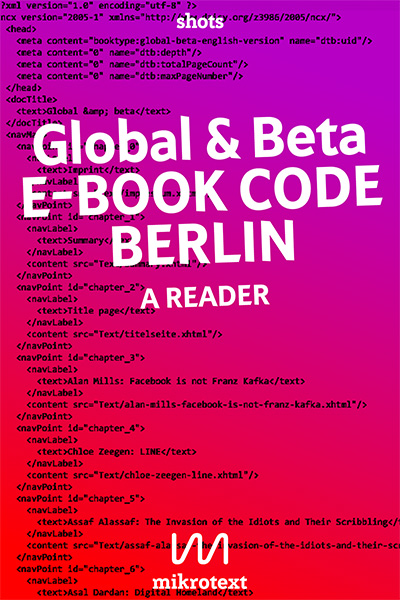 The number of representatives of digital publishing that Berlin has attracted in recent years is astonishing. Their lingua franca is a code that can be understood anywhere you go and is used across the world: the e-book code. Free download. Also available in German.
Translated by Cory Tamler, accompaniment for the event Global & beta during the Stadtsprachen Festival
0,00 €
Free download or use the shop links
Summary: Digital Publishing in Berlin
Four Berlin-based publisher-authors, Kathrin Passig of Techniktagebuch, Nikola Richter of mikrotext, Ansgar Warner of ebooknews, and Gregor Weichbrodt of 0x0a/Frohmann, share and discuss opinions, experiences, and challenges.As part of the Stadtsprachen Festival, taking place in Berlin in November 2016 and funded by the Hauptstadtkulturfonds, this reader look at what it is that constitutes this international digital voice.
In addition, four important Berlin-based writers, Assaf Alassaf, Chloe Zeegen, Alan Mills and Asal Dardan, where asked to about their literary relationship with the internet.
Also available for free in German.