Chloe Zeegen
I love myself ok?
October 2013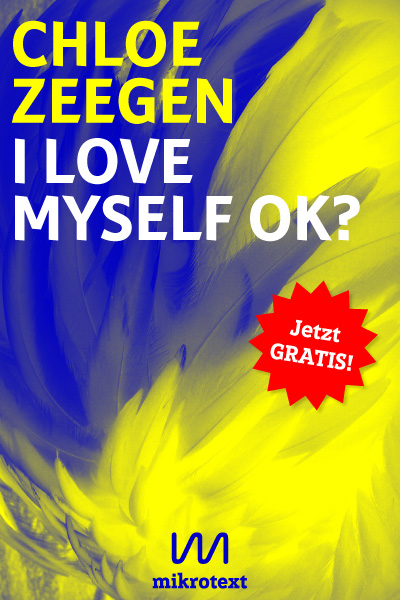 Young, angry and articulate, the narrator of Chloe Zeegen's Berlin Trilogy moves to Berlin (drugs, clubs, parks and politics), outs herself on Facebook and tests her luck. This ebook comes as a free download. See below.
With three photos introducing each chapter
0,00 €
"Chloe Zeegen's stories sound as poetic as large urban poems. They are modern, funny and read like butter. Nevertheless, they carry a message. That rarely happens."
Maja Hoock, Fräulein Magazin

"C'était exaltant, c'était indé, c'était Patti Smith."
Mediapart/Moyen-Courrier

"Your writing brilliantly reflects that the real (in your case: your autobiography, buying drugs, questioning your sexuality) and the virtual (chatting to people on Facebook, Googling stupid shit) are always intertwined. You deconstruct the apparent dichotomies so easily, it's astonishing. You do so without even talking about it. Your writing subtly reflects it. I love that."
Kristoffer Cornils, wolfauftausendplateaus

"Once you get into Zeegen's ryhthm and get used to the fact that her mental leaps are bigger than some of their sentences, you want more of this reading food."
Kevin Junk, Fixpoetry
"A must-read."
Ansgar Warner, e-book-news
"She writes as she speaks, completely free and detached from popular literary criticism. Her e-book is as entertaining as a tweet, and she turns her Facebook wall into real-time literature."
20min.ch
Summary: Coming out in Berlin

Chloe Zeegen's trilogy of short stories requires a genre all of its own. Social commentary? The Facebook generation's sexual awakening? Zeegen's spontaneous and conversational style reads like online chat intersected by passages of poetry. Her narrator experiences Berlin's parties and private views, meets random people, assembles her Ikea bed, paces through history and turns an intellectual eye to pop architecture such as the Bierpinsel in Berlin-Steglitz. Kreuzberg and Neukölln feature, as does the 'Späti' – the trusty Berlin 7-11. Fast-paced and in your face.
I go to a bar on Oranienstraße. There's some random there and we chat for a bit but pretty soon he's like just moved here have you? think you're an artist? it's people like you who are destroying Berlin you fucking tourist. I laugh in his face give him the finger but I don't just give him the finger I pretend to run my tongue over it up and down to show him just how much of a creative little bitch I am and that really pisses him off and his friends are like leave it leave it.
Auszug lesen
Shops